Welcome. We're a 'mom & pop' store front hobby shop offering a selection of radio controlled planes, helis, cars, trucks, and boats. We offer a substantial selection of replacement parts and pride ourselves on our special order service for product we don't normally stock. We also have a selection of plastic models, rockets and kites.
Doug & Donette Hyslip - selling fun since 1991
Contact Us
actionhobby.ca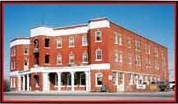 Hours
9:30 am - 6:00pm
Monday through Saturday
Closed 3-Day Long Weekends
Map
Promotions
Gift Certificate Draw
Keep your invoices and watch this space at the end of each month for a winning invoice number.
Please - no phone calls
Winner of the end of April invoice draw for $100 Gift Certificate:
C. Ferguson
Announcements
May 22, 2015
New Parkzone P-47D Thunderbolt has arrived!
May 21, 2015
Eflite Rare Bear BNF Basic is back in stock

Come see our selection of radio controlled boats
May 11, 2015
Action Hobby will be closed Saturday, Sunday, Monday, May 16, 17 & 18 for the Victoria Day weekend.
May 9, 2015
Now stocking Tamiya 1/14 scale big rig kits!
April 25, 2015
Axial Dodge Power Ram clear body is in stock.